One last stretch to our tour "Outside It's America – Where Dreams Hang In Wonders" took place in Texas. It started in Houston, followed by San Antonio, Dallas, and ended in Austin, where our trip also began a few weeks earlier…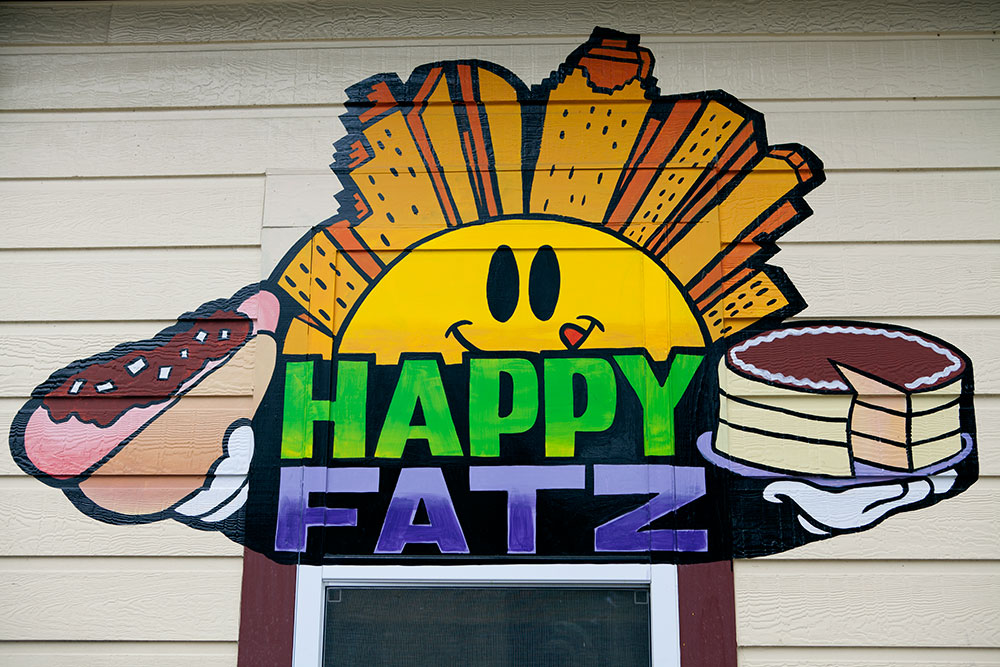 Eating habits and local specialties do change when you change state, and they're all proud of it. They say the more you go South, the more oil they use (and probably the tastier it is – I'll leave this to the expert in the matter, no one else than Jeff). Yet, seeing a sign that so graciously did the promotion of "fat" left me a little puzzled. I mean, the sign is really inviting. But were "Happy Fatz" really the right words to use? This was the very first thing I saw on my way to the Starbucks in Houston. And I must say half of it was true. The people we met in Houston all were on the happy part of the sign, and they all did bring sun in what has been a rainy day!
We went back to the venue, where something a little different was waiting for us – fresh pastas! Not bad for a touring band, right? We've had a lot of sandwiches, too, and I guess that this is life on the road for us! A huge thank you to Sef and Moose who cooked breakfast, lunch and dinner every day, making sure everyone was pleased with what they had (in other words, making sure the picky eater in me would like it, and that there was nothing Alex couldn't eat 🙂 )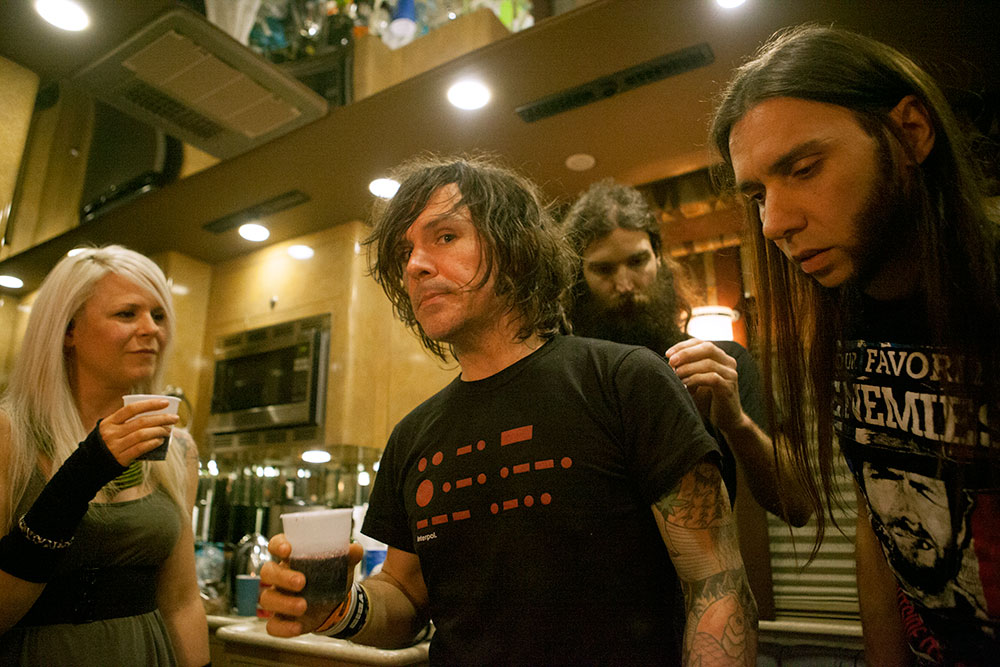 Back in the bus before the show. As funny as it may be, even though there have been green rooms / dressing rooms in most of the venues we have been to, we ended in the bus most of the time. This dear bus we've started calling "home" sometime along the tour. I can't say when that happened, but I can clearly remember the moment we all realized it; when Alex said "Ah no, let's not go out, let's go back home instead, and let's spend time together there. We'll create our own fun, and we'll give it the spirit we want". We all looked at each other and laughed, realizing that for all of us, this bus has been home for 3 weeks…
Conrad was waiting for us inside with something he wanted us to try, a new drink nobody had tried before. Called calimocho, it mixes cola and red wine. Yes, you read that right. The wine lovers in us cringed, but we tried it anyway. Surprisingly, we didn't dislike it, and tastes somewhat similar to sangria. Got a not so good wine? Mix in some cola, and add slices of oranges to save the night! 😉
The show in Houston was the first one of the tour, one we greatly enjoyed, and that we will forever remember! We didn't know what to expect, really. And we were in for quite a party. It was our first time there, and people were incredibly welcoming. We could also meet with some old-time friends for the first time, which made it quite special. We often say that what truly defines a moment is what is shared with the people, and this concert has been no exception!
And then after that came San Antonio. This actually went by in a flash. It had started raining all over Texas the previous night, and it hadn't stopped when we reached San Antonio. We decided to go to a Starbucks that was close to the Alamo, and so opted for the one that was marked in Alamo Heights. Neither did we know it had nothing to do with the Alamo at all, and that it was a very residential district…! We settled in anyway, and had a truly wonderful time. We might have seen nothing of San Antonio at all, but there's always next time, and nothing beats a good time all together!
The show went well, very well. I can't remember much of the show, as it was quite "uneventful", but nonetheless a very good show. I do remember though that my highlight was the fact I managed to take a picture of Alex as he jumped at the beginning of the song "Midnight's Crashing" for the very first time of the tour. It took me 17 shows to make one, and I must say I was very, VERY happy about it!
And then came Dallas… The second to last show of the tour. It was hard to believe that so much time had gone by already, that we had played all these shows, and that only 2 of them were left. It was great to meet with people we had seen in 2008, when we played SXSW, and some others we had talked to for many years but never met before.
We hit Austin the next morning with a certain nostalgia. I mean, the last concert of the tour would be tonight. And even though we knew, we couldn't really feel like it. Were we tired? Yes, of course. But did we want it to end? No! We couldn't imagine, understand, or realize that the tour was already so close to being over…
We walked the streets of Austin, remembering some great moments we had shared previously in Austin, seeing the famous Maggie Mae's, where we played the first time we were in Austin. But all this wandering in the streets had one very specific goal: to find something we could use to raise our glasses to the end of this tour.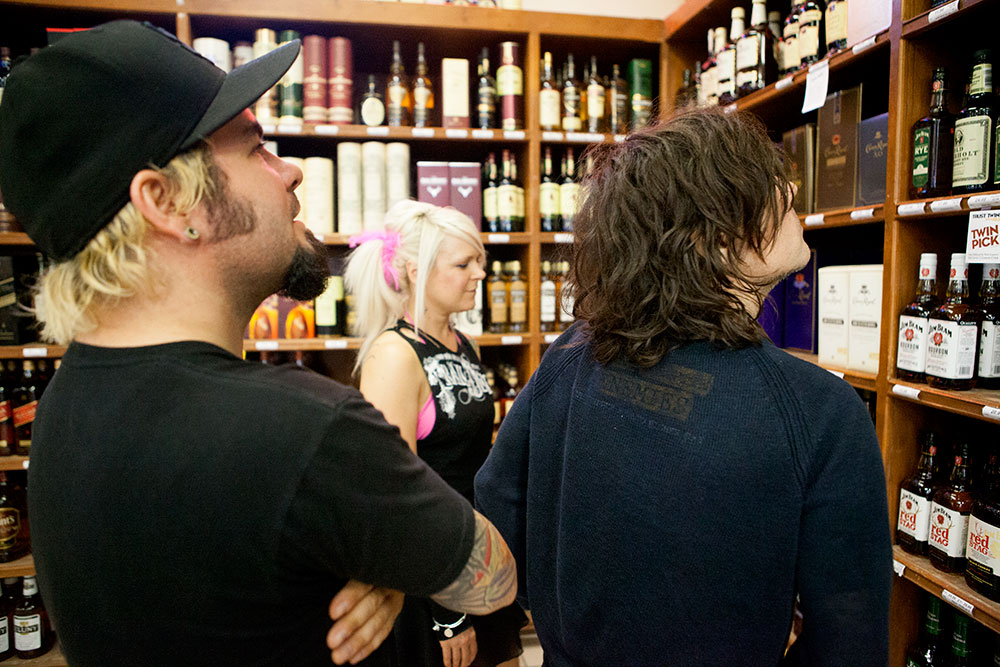 On our way back, we couldn't help but laugh at how we cheer with some whisky while eating sandwiches all day long. We raised our glasses to the wonderful moment we have spent together. The tour has brought us to discover not only what was outside, America for instance, but especially what was inside. These relationships that we have all together, that we share, and that are the most wonderful things we will ever be able to discover.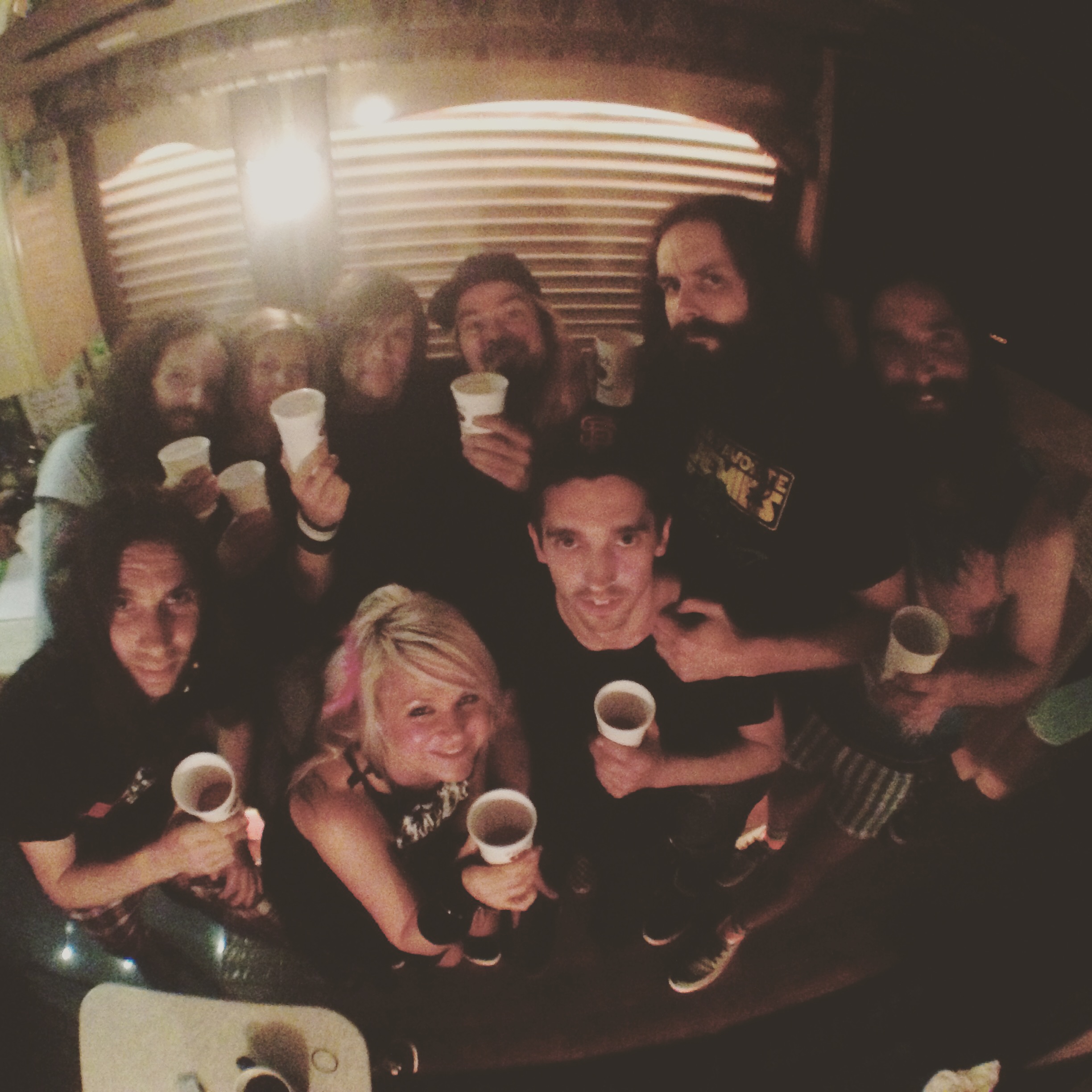 And then the concert! The very last one. The concert has been amazing! The guys were raging on stage. It was the last concert of that tour, yes, but the emergency they had was amazing. You could feel this tension, as if they said to every one in the audience "we were here 8 years ago already, but we'll make sure you do not forget us and make us come back sooner than that next time". It's been an incredible show! I can remember seeing Alex kicking around on stage, and seeing he was getting close to the wedge, I thought "if he climbs on there, then I need to be in the best position to take pictures". He didn't climb; the wedge fell on me before that. But oh well, I am happy he wasn't the one to fall down as it happened to him before in Montreal…! The concert has been a wonderful one! A true celebration with people from all over the world, sharing what we have that is most precious: ourselves.
"There's no time like YFE music and family time!! AWESOME!!!! Only YFE ends a concert with this kind of communal explosion!!" – Elizabeth, Knoxville, TN
"I have discovered you guys 1 year ago on Spotify, and I have been following you since then. I know Trail of Dead, and I have seen them countless times, more than I can remember, but tonight, I came to see YOU guys. There was no way I would miss this show!" – Johnny, Austin, TX
"It was beyond belief. I turned around and Sef was right behind me. I hugged him really hard and cried like a baby" – Brenda, Perris, CA
"So blessed to have been part of this, it happened like a blink of an eye. I know I will see you again. Thank you for being so amazingly awesome you rock my world." – Reyna, San Diego, CA
And it ended where it all began, in Austin, on a ranch where people became family to us. After such an intense tour, it's been good to spend a few days relaxing… and relaxing, we did well! We played with the horses, embracing what life on a ranch is all about, went vinyl shopping, spent wonderful moments around the table eating some food; mac and cheese, Texas famous barbecue, and the ever popular tacos!
Once again, thanks to each and everyone of you. I think I can say that so far, this tour has been the best one we've ever had. Not because the guys played better than they usually do. Not because there were more people at the shows. But because of who we've decided to become; us. We all look for something in life; a better job, longer vacations, better looking clothes, cooler sunglasses. But throughout all of this, I think that everybody's lifelong challenge is finding who they are, truly. I know that for me, at least, it has been. Being surrounded by 20 people everyday is something that is fantastic, but that can also cause you to wonder what it is you have to bring to the people around you, and what your place in that family is, wondering why you're there. It'll be different for everyone, as everybody leads a different life, in a different context; but we all want answers to these things we cannot understand. But as we had our last toast in the bus, I have realized that the answers to all of my questions would never be "outside", but "inside". And that all around me, I had on a daily basis 20 people to remind me who I was truly called to be, and countless more people, some I have never even met, but to whom I talk to on a regular basis and still call family… And for me, this is what "Outside It's America" has been all about; finding myself through my people. And this is what I hope you will be able to do as well. As truly, there is no greater gift than the one of knowing you are loved, and be able to give love back in return.
– Stephanie