A Leap of Faith Into Life
I'm very excited to go back to that moment and rethink about how crazy it has been! It was such a fabulous time we had over there, more than I could have ever expected. As I recall, our trip to go there was such a blast! Imagine for a second; I got to do a 7-hour drive with our new live sound engineer Bob, who is not only a fabulous sound engineer but also such a great and generous guy.
We talked about music, sound, and gear… Sorry, it's an addiction for me! Especially studio gear! He shared with us different experiences he had on the road with bands like Voivod, and how music has impacted his life in a way that this is what he wanted to do with his life. As I was listening to him and was stunned by how powerful music is, I just thought about my life for a second, and I realized it was the same thing. Music was definitely a language of the heart I wanted to speak and share with people. To connect, to touch, to live…
For me, it first started as a scream for help… to be loved, to be ignited… But it turned into a communion with brothers and sisters and into something way more powerful than what I ever expected. The concert in NYC was a great testimony of that. We always like to break the barriers of what an artist should or shouldn't do, to break the separation (or the illusion of separation) caused by differences between the people performing and the people living it. For us, it's always been a big gathering where we could let go all together, allowing what's deep inside to get out and live it as one!
When we had this idea of creating the magic of bringing the YFE family with us, I was really touched. At the same time, I was thinking "If a band I truly loved would have done that for me, it could have really changed my life and helped me build bridges with people". So I was already super excited about this!
I had the chance to meet with one of our partners in crime from Tech21 just before the show; it was the first time we were meeting in person and it was already massive hugs and display of love. I was deeply touched, and I realized even more that it is what we are cultivating in the band and with the people surrounding us that makes it all so powerful.
The concert itself was filled with so much energy, I wanted to explode! To see all the faces letting go to the sound of the music was such a blessing for me. I didn't want this moment to end, and when it did, I had the impression we had only played for 10 minutes.
What I thought was just too crazy is when I entered the bus filled with people and witnessed all the amazing and beautiful smiles and the laughter. I was so empowered because it was not only about going to see a live concert; you can do that every night if you want. But all those people were thirsty to commune with others, to break all the rules and barriers there could have been. The minute they stepped in that bus, there was no introduction; you were friends with everybody. Wow! Isn't it beautiful? Everybody took a chance and got on that adventure to taste something different than what they knew. I don't think it's how tall the buildings in New York City are that made an eternal mark into people's hearts, but it's the sense of belonging… of love… of being together. The music that connects with our hearts and souls and the desire to let this flow of life out of us.
The picture on Times Square totally immortalized the spirit and the essence of this moment. Everybody together, no game, no role, just us, all together, living this crazy journey and knowing that without the person on your left and on your right… it's pointless. Love still has the power to change, transform and heal, no matter the era we live in.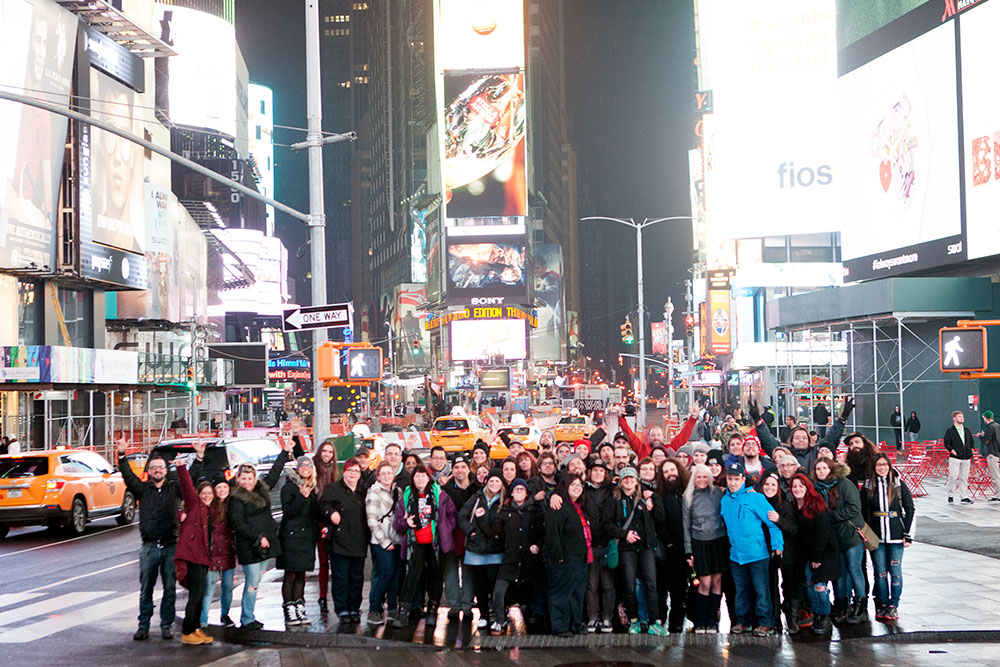 The only thing that made me sad is that I couldn't go back home in the same car as Bob because he had left earlier… I felt my thirst of talking about studio gear was not quenched!
Love you guys,
– Ben
Trackback from your site.