(DRUMMONDVILLE) The Drummondville band Your Favorite Enemies is getting ready for a tour that will bring them to Japan, Australia and Europe. While they are multiplying radio successes, notably in England, the rock band, singing in English, is however given the cold shoulder by the commercial radio in Quebec.
"There's a common saying that no man is a prophet in his own country, says Jeff Beaulieu, politely. I don't know what it will take for people here to finally discover us, but it's sure that the CRTC is not helping us (with its quotas)."
Your Favorite Enemies have obtained a few rare occasions to get themselves known in the last few years, such as sharing the stage with Papa Roach. Those concerts allowed them to get a lot of fans amongst the underground culture.
In order to make new friends, the members of the band have decided to sell their albums one house at the time. They have recently decided to do door-to-door in the region of Sherbrooke. "We have adopted the DIY philosophy. We produce our own albums, and we've even bought our own equipment so we could print our own merch," added the guitarist.
Founded in 2006, Your Favorite Enemies consist of Sef (guitar), Miss Isabel (keyboards and vocals), Alex Foster (vocals), Ben Lemelin (bass), Charles Allicie (drums) and Jeff Beaulieu (guitar). The band was formed in the area of Montreal, and their first HQ was established in Varennes before being kicked out in 2009. It's at that time that the Drummondville adventure began.
"We had our studio in Varennes, but police officers kept visiting us. We discovered an old church in Drummondville, in the parish of Saint-Simon. It was the perfect place for us. It's a very quiet place, so it allows us to really focus on what we do" explained Beaulieu.
The band finds their inspiration mostly from the grunge current, with Pearl Jam and Nirvana, and have a more "noise" sound, reminiscent of Sonic Youth.
120,000 albums sold
After creating the label Hopeful Tragedy Records in April 2007, Your Favorite Enemies released a few months later a first EP of 5 songs, dedicated to their first fans. A year later, the band released their first album, "Love Is A Promise Whispering Goodbye". Their success on other continents brings the band to work with Japanese video games composer Takeharu Ishimoto to arrange, write the lyrics and interpret 3 songs on the original soundtrack of Dissidia: Final Fantasy.
After a few silent years in studio, the band returned in their upper room in 2012 to produce "Vague Souvenir". This album has the particularity of containing the first French songs of the band.
With the years, Your Favorite Enemies have sold 120,000 albums throughout the world. Strong of this success, they will release their 4th album, titled "Between Illness And Migration", due out next spring in Canada.
Now based in Drummondville, Your Favorite Enemies are getting ready to hit Japan, Australia and Europe.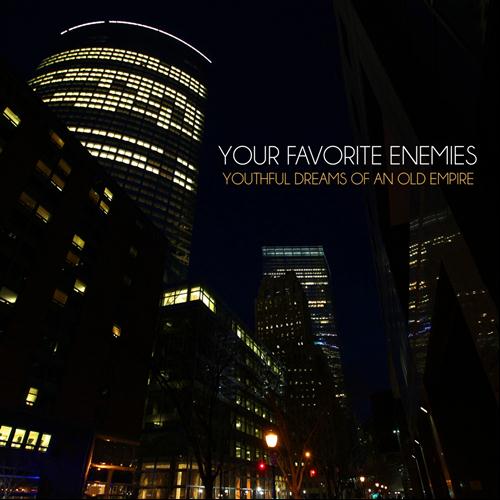 What was the inspiration behind the cover?
It's New York in January. As much as it could have been Tokyo, Paris, London, Shanghai, Sao Polo or Cairo. We were in the final stage of the mixing process of our album and I was walking on what used to be an unusually freezing night. As the cold was trying to get its grip on me, that scene (that ultimately became the "Youthful Dreams Of An Old Empire" EP cover) really struck me. It felt like the city, more than the cold itself, was trying to get a firm grip on me, in a strange static kind of motion, neon lights and other fake colors trying to simulate life in a globally acknowledged way, obscene surrender to a collective soul. We're all faceless and identical in regard of what we used to dream of and of what ultimately owns us now, as if we had lost ourselves somewhere in the process of our everlasting desire to emancipate our souls rather than being transformed. We became the building's reflection, perfectly aligned and organized to create the illusion of creative chaos, sad irony of our make-believes and other attempts to drain our untameable nature out of its vivid and imperfect embodiment for any kind of self-preservation type of false security.
As if life, the most defining incarnation of what art is truly about, became the plastic personification of who we are, the collective mirage of what used to lead us to define and redefine the colors of the invisible, of what our now tame nature considers the colors of a defying way to envision a proscribed dream.
The very dominant nature of every empire remains its resilience to impose itself to our intrinsic desire for freedom and its opposition to our willingness to take a chance at living beyond boundaries. When we let go of our fundamental fears of failing, we all start dreaming again, dreaming it all over again. And new morning shades arise before our very own eyes. We might have been blinded by neon lights, but every empire falls down, for we do not need to open our eyes to see. That's what I saw. And the time I took to contemplate that scenery, musing about the illusions of holding on and about the let go necessary in order to take a chance at living, explains the major frost bites I had when I was back in the studio that night. The guys are still convinced I stopped by the apartment of a very good friend of mine on the way to the studio… well, everyone feeds the nature of his illusions and make-believes, right 😉