Tour Bus Confessional: Germany
Tour Bus Confessional: Germany
So we just left the UK… We're on a ferry headed to France, from where we would drive to Amsterdam! The ferry itself was HUGE. And I really mean it. Somehow, it looked like a small airport with its duty-free shops and small bars and cafés in which everything was overpriced! The ferry left the UK in the middle of the night. We got woken up by the bus driver, got out of the bus with nothing on us. Everything had to remain on the bus! The girls were all wearing PJs. The guys didn't change at all. That being said, I doubt they even wear pyjamas! lol!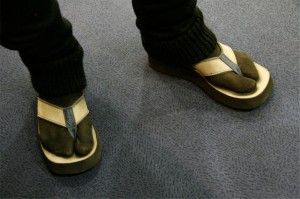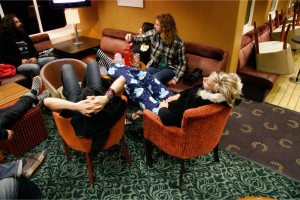 Guess whose feet? Gathered in the lounge, in grand style
So we walked around the ferry for a bit, went to see outside only to find ourselves in the middle of a rainstorm. It was now confirmed, the fact that we felt shaky since we got on that boat was because of the storm outside, not because we had just woken up. We finally decided to sit in one of the lounges that was there. Couches and a small TV were fine for us. We were tired and knew we would all fall asleep anyway! And sleep we did… Just as everyone else that was on the ferry. Until, almost at the very end of the ride, we discovered the jukebox! A few pounds a song – it was actually freaking expensive for us, for a single song when you thought about the currency exchange rate – but we wanted to try it. It was kind of old, kind of cheap-looking, and very kitsch. We NEEDED to try this! I do not remember the first song that played, but I sure do know that the guys rapidly took off their shirts and started dancing on the ferry, chest-naked, to the amusement of everybody that was now awake because of us…!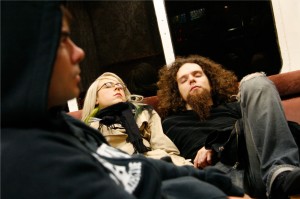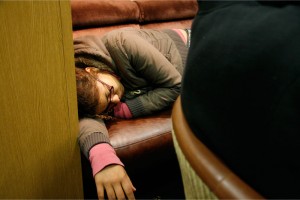 Sleeping… And sleeping again…
Then we arrived to Amsterdam, where we would meet one of our friends and spend the day with her. She would guide us through the city. Early morning, overcast sky, Amsterdam was still very colorful with all the bikes that were everywhere. We also quickly understood that bikes are just as dangerous as any car in Amsterdam – get away from them fast if you don't wanna get hit! lol! We walked around the city a bit, visited a church that simply was grandiose… And then we entered the "red-light district". We all had heard about it. It's world famous, it would be hard not to at least know what it was. But to actually see it was quite different. We tried interviewing a few people, but quickly noticed that Sef totally sucked at it after Poseidon rudely turned him down by offering him his middle finger. Maybe that was because Sef told him he wasn't a real God, nor even a King, cause Sef himself was the only King… lol! No matter what, Amsterdam was definitely the city where everything was allowed!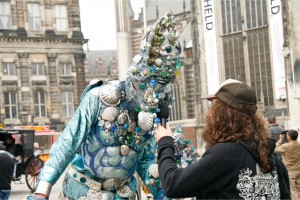 The colors of Amsterdam… & Poseidon's failed interview
We continued walking and found a group of people singing songs, looking for other people to sing songs. A college project, I think. So we volunteered. The thing is, we do not know the songs. They didn't have the lyrics with then and of course the songs were in dutch! I don't know what happened with that afterwards, but it sure was very funny as we did that on the spot! Keep in mind that Jeff sang, and that he is not what you can call a "good" singer… or a singer at all!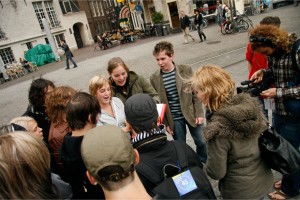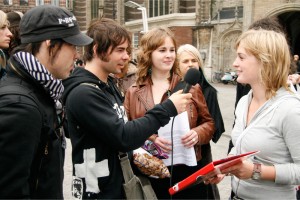 Our new found choir… Jeff's singing wasn't all that good, he quickly turned to doing interviews!
We kept walking for a while, and then we split. Some of us needed internet access – blogs, pictures and videos were waiting to be uploaded! Others continued exploring the city, and doing some more interviews!!! And around that very same time we all pretty much started getting seriously sick. As if the night on the ferry, all the walking outside and the exhaustion from the past days suddenly hit us! Amsterdam is a wonderful city. The architecture is simply breathtaking, and there's colors everywhere. Even on a grey day, it never really felt grey outside. Of course, it has it's ups and downs. It has its very own vibe, something that I had never felt before… kind of strange actually, but maybe that was only from being sick and tired…! Some visited monuments, others did interviews on boats, others visited countless coffee shops in search of coffee but had no luck… later on everyone was pretty much dreaming of finding a Starbucks. After a long day we all gathered around the bus at the assigned time… And it was time to leave Amsterdam and head to Berlin!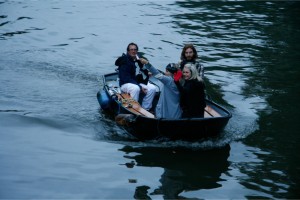 Interview on a boat in Amsterdam
We were again traveling by night. We left Amsterdam around 11pm, to get to Berlin somewhere around 6am. The show and soundcheck being kind of late that day, we had the entire morning ahead of us, before going to meet with the fans! Our first stop was an essential one: the laundromat! Luckily, there was one on the very same street we were parked on. A few minutes later, we were all inside with our laundry bags. True fact: we never wore the same t-shirt twice without washing it, except for YB who had the very same shirt for the whole 2 weeks we were on tour – no washing at all! This shirt has affectionately been called "The European Shirt". So we did our laundry, helped by a local guy who was there as well… It was obvious we had NO idea what to do. First, I had never been to a laundromat in my entire life. And I didn't speak German… lol! The guy didn't speak English at all. But we managed to understand each other, somehow.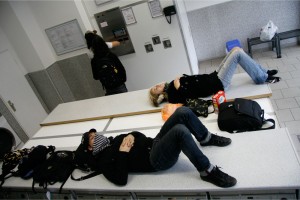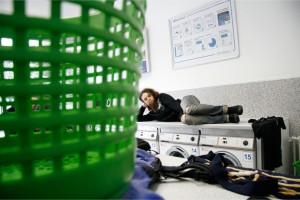 Waiting for the laundry to finish… A little break was welcome!
Laundry finished, we split up again. Always the same groups, with some having to write blogs, upload pictures and videos, while others went away to do interviews and meet the fans! I was in the "staying" group… lol! I was correcting and translating everything that was posted! We settled in a small café not to far from the venue… A very cozy place, with delicious coffee. From the outside, it looked pretty cool, and there was a free wi-fi sign, that caught our attention. We crossed the street to get in, and then we were very surprised… To see a sign saying that if you ever were followed by Nazis, the coffee shop would offer you protection… Yes, we were in East-Berlin, no doubt about this! All the buildings had the same shape and size and they looked like huge grey boxes. Everything was the same everywhere. But the people were the ones illuminating everything around, giving the cold, rainy day a warm feeling…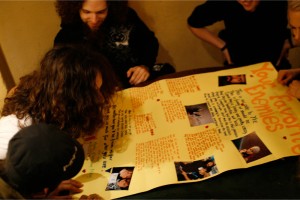 Meeting with the fans
We all came back to the venue at around the same time, to get ready for the soundchecks… And that place was wonderful! The venue itself was large, with a decent stage for 6 people, and the staff was so incredibly nice! They welcomed us with smiles and hugs, showed us around the place before bringing us backstage, where they had cooked local food for all of us!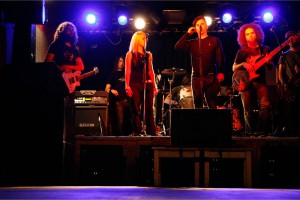 Soundchecks
And then the show started… The place was crowded. It was actually hard to walk from the backstage to the front of the stage… And the people were so energetic! The show hadn't even started and they were already screaming and jumping. German people are intense, and they LOVE music! From where I was in the crowd, I found myself in the middle of a mosh pit. But a german one. One that was more intense than anything I had seen before. A stranger quickly grabbed me by the arm to get me out of there… lol! People were screaming, singing the songs, trying to kiss Alex as he was singing, and one girl even managed to bite him on the face! In other words, the show was AWESOME! Despite the fact that everybody was sick, the energy level had never been so high! We went to meet the people after that, and it was just crazy… The venue had now been turned into a nightclub, with a DJ playing until morning… After talking with people, we went back to our tour bus, where we spent the night. The next day was off and we spent it in Berlin!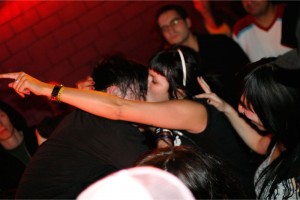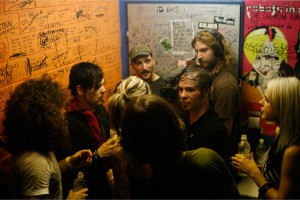 I think she was the one trying to kiss… & Backstage after the show
The day off started… At this point, almost everybody was sick. Matt and Kanu even developed acute pneumonia… But we only found out about it after we came back home and they payed a visit to the doctor… lol! We started the day in our little café we had found the previous day. And we were overjoyed to see that they were even serving breakfast! Traditional German breakfast, we thought! Wrong! Well, it was traditional, but not really breakfast… lol! The guys sure did have fun eating the cold fishballs! Though breakfast hadn't been a success, food being too different from our expectations, the moka was delicious!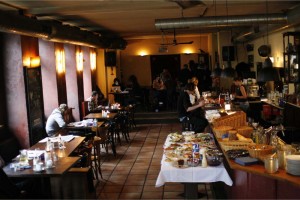 Our little Café in Berlin
After Breakfast, we split again! Though most of us stayed at the café. First, because it was an amazing place and also because we were all sick… Others visited Berlin, playing tourists as much as they could!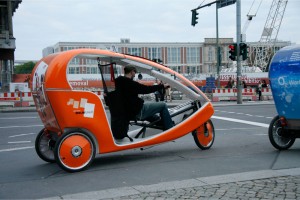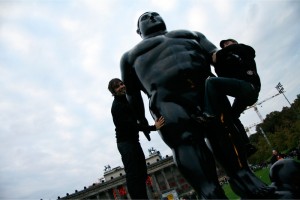 Berlin Style… They couldn't help it…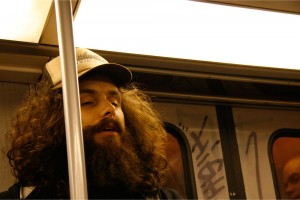 At the end of the day, we were all tired… Some more than others!

Then back on the bus, for another night ride! Five hours and half later, very early in the morning, we were arriving in Cologne! We all woke up early. Somehow, when you're sick and the temperature in the bus oscillates between freezing cold and scorching hot, you lose the desire to sleep pretty quick! We got dressed, and looked for a café nearby. That was the girls' first stop: make-up was needed! Immediately, we noticed just how Berlin and Cologne were different. In Cologne, everything was white, as opposed to Berlin where everything was grey. Just that made a huge difference! We strolled the streets, to find something quite amusing… A small helicopter! A kid's ride, basically, you know the ones you put money in and they start moving… Sef tried it, as well as a few other people! We found a little bistro, where we all settled, computers and stuff turned on, only to realize that there was no internet connection. We tried, and tried, but it was hopeless. We wrapped up everything and left, in quest for another place where we could use Internet. It's when it's not working that you realize just how much you need it in your life… lol! We split up in 2 groups again… Some going to look for a wi-fi place, others going to a meet & greet with fans in Cologne!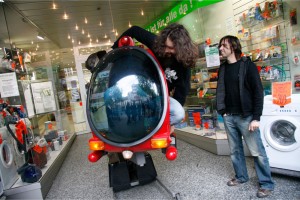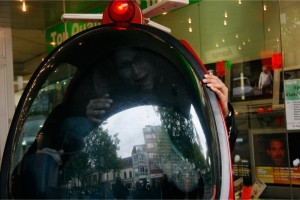 Sef trying to get out of the helicopter… Not easy, but you could even fit 2!
I heard from the others that the meet & greet had been amazing! Simple, but truly like a family reunion… They visited awesome places, churches were particularly beautiful in that area! As for our small group, we found a very nice and colourful coffee-cake place(we had to walk around for 30 minutes to find it, though, but we did! lol!) Then we all gathered at the venue. An awesome place, with a terrace outside, and showers inside!!! It was still early before the soundcheck, so we could enjoy time relaxing backstage, meeting with the fans and talking together…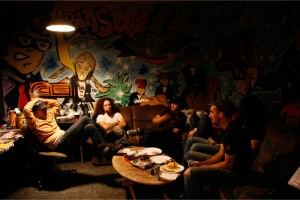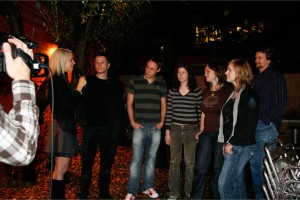 Backstage & With some fans before the show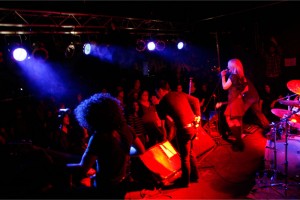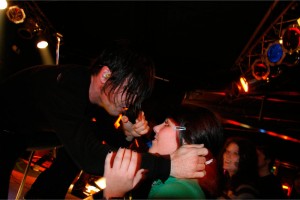 On stage & Close connection with the fans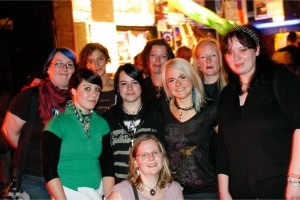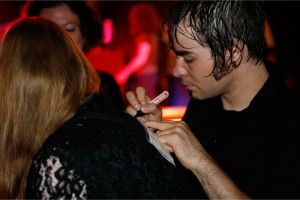 Some of the fans after the show & Signing notes for the fans

And that ended our time in Germany, that seemed way too short for each and every one of us… But we knew it was only the beginning… And that we would be back, no matter what. What happened in Germany was way too real to be a once-in-a-lifetime episode…
– Stephanie