Tour Bus Confessional: France & Netherlands
Tour Bus Confessional: France & Netherlands
Dream-like Germany was over… We left the country by night, once more, this time for a much longer ride than we had done in the last few days. But still, not so long. When you think about it, there's around 5 hours between Cologne and Paris. You need to go across 2 countries. And a ride from Montreal to Toronto is 6 hours. We're still in the same country, only a different province (and believe me, everything looks gorgeous when you compare it to the Highway-401, the highway between Montreal and Toronto… There's nothing as boring as this… lol!)
So we arrived in Paris some time early in the morning. I must say, I do not really remember when it was… But I remember it was another very cold day, another gray and rainy day. Looks like we carried the English weather around with us everywhere we went on that tour!
We were parked just outside the venue… We opened the curtains to see, to our big surprise, a mass of fans already gathered around the bus! When did they get there, that early in the morning? We didn't think about it too much, we were just happy to see them, and to finally be able to meet them all! So we got dressed up (closed the curtains before, of course…), had some coffee and it was time to get out the bus… We were all so very excited until, totally horrified, we saw our manager get out of the bus before us, in underwear, in front of all the fans, to grab his suitcase under the tour bus. Ouch. We were ashamed. And kind of feeling sorry… for the fans. We said hello to everyone, introduced ourselves, talked a bit… It was simple, yet a very good time!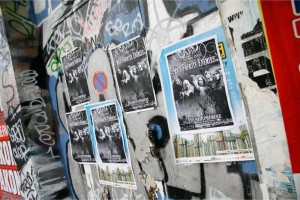 The posters outside the venue
Marjo and I escaped for a few minutes – we need bathrooms, and we needed to put on some make-up. Just around the corner, a block away from the venue was a little coffee shop. "Perfect!" we though as we got inside. We did what we had to do, and then, as we were already there, why not order a coffee? So we go to the counter, speak in English only to realize with the barista's perplex look that we're in a French speaking country again. We apologized, and ordered in French… we got our coffee, got back to the venue, and then we took a sip… But what was that? That was not coffee, that was pure espresso!!!!! Don't get me wrong, I love espresso. But I love it when I know it's what I'm going to drink… lol!
Back with the fans, we walk a little bit around the venue; explore what's around us… Paris is a very beautiful city… An amazing place… The venue happens to already be opened, and it has Wi-Fi. Good thing, we don't have to look for an Internet café! Cologne has left a bitter taste in my mouth after all that walking for finding one… lol! We settled on small tables outside… The day would be a very busy one, there was a lot ahead of us…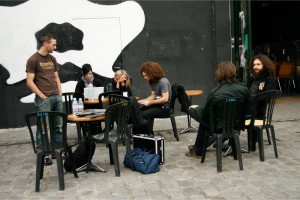 Outside the venue, getting ready for the day!
First thing ahead of us was a photo shoot for the RockOne magazine, a magazine with which we had already collaborated, and with which we would collaborate again later, when we did a contest for the Open Your Eyes Video Clip!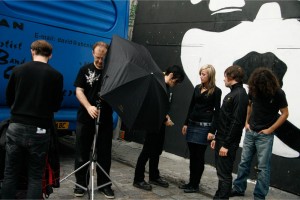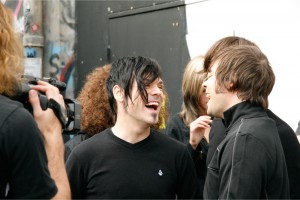 Getting ready for the shoot… Always smiling! Gotta love this…
During a little break in between the different places for the photo shoot, the band members took the time to talk with the fans, who were watching from a distance what was going on. You couldn't hear what was said, but it was easy to know that everybody was excited!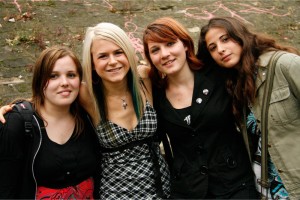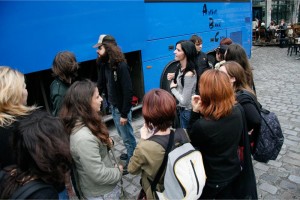 With some of the fans… Gathered around the bus with some of the fans…
And then, already, it was time for the soundcheck. There were other bands playing that night, but as we were headlining, so we got to do the soundcheck first… The venue was awesome! A really cool place! We all liked it at first sight… The backstage as well, was an incredible place… We all liked it very much… And quickly paid it a visit as soon as the soundcheck was over! And guess what we did? lol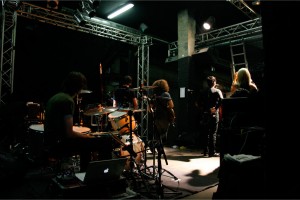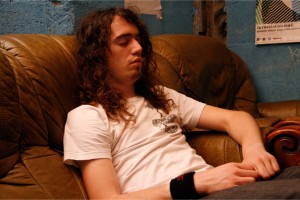 Soundcheck… Some had very good times in the backstage… lol!
So as some were working backstage, uploading videos, pictures and blogs (again!) and others sleeping, Alex had an interview with Amnesty International France. Very sick, barely able to move (for quite a few days now), it was still very important for him to do it… Outside on the river side, what was supposed to be a 15-minutes interview turned into a 1-hour interview. But when you know Alex, it's no surprise… He is passionate about what he believes in, and it's hard to stop his enthusiasm and his fire when he talks about human rights…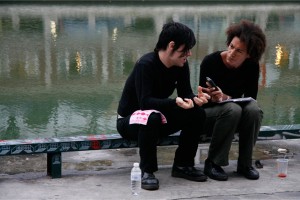 Interview with Amnesty International
Night came and it was soon going to be time for the band to get on stage… The show started with a cloud of smoke… So much that the guys couldn't see what was in front of them, and didn't know where they were going on stage… That could have been dangerous…! Sef could have fallen down, you know… lol! The show was intense… Really intense, just as the crowd was. Looking at the show, you would have never guessed that Alex was barely able to move. You would have never guessed that Ben, every time he turned his back to the crowd, was actually coughing and not really sharing a good time with Moose… And it is during that show too, that the band performed the song "Des Armes", by Noir Désir, a song that now appears on "Vague Souvenir".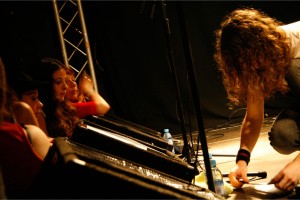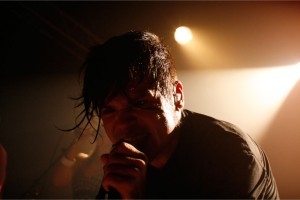 People in front of the stage as the doors opened… & Raw intensity on stage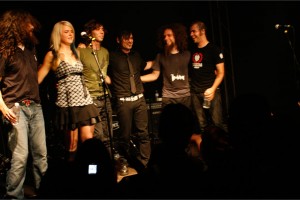 Yes, that was a rocking show! & Saluting the fans after the show…

A quick stop to the backstage, and the band was back outside with fans who attended the show and were waiting for them… Some of them had to leave early, but others stayed despite missing their last train. They'd take a train back home the day after – What happened was just too intense, too real, and too crazy to stop right now, they said! I think one of them, wanting to push the boundaries of what crazy was, even tried to teach Sef some kind of dance… lol!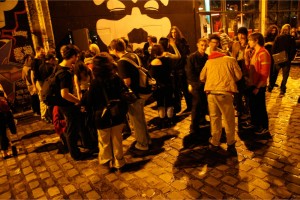 Fans after the show, outside the venue
We got back into the bus. It was far from over. No… We got into the tour bus, other fans took taxis, and we all met again at the feet of the Eiffel Tower… Going through some of Paris' most beautiful places way too quickly… Looking toward the top of the Eiffel Tower was quite an impressive sight… Especially when you think of the moment you just lived… We walked a bit after that too, going all the way up to the Military School… from where we had an incredible sight of the Eiffel Tower… Walking, going up the stairs, Alex and Jeff shared together an awesome moment… "Can you really believe that it is our music that brought us here?"… Yes… we do believe it… Because we understand now, better than ever, just how powerful music is. Paris is a beautiful city, but to discover it because music is what brought you there gives you a completely different eye on it. And what we lived with the fans, the connection we had with the French people was so strong, so vivid and so real that we knew it was only a beginning…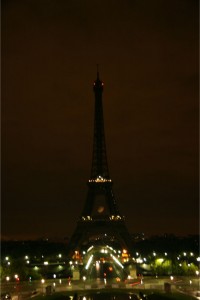 Eiffel Tower
After a fantastic night at the Eiffel Tower, we left Paris early in the morning, direction Den Haag, Netherlands, some 5 hours away, going all the way through Belgium again. We arrived there, obviously expecting to find something that looked at bit like Amsterdam, though a bit less frivolous… But we were off-track. It was more of a lovely village, not very big, that was more on the historic side… The architecture was mind-blowing again, less people in the streets, and much less neon lights. We all fell in love with the city…
We got out of the bus, walked a little bit until we found the venue, just to see where it was… Obviously, that early in the day, it was still closed… So we walked off, looking for another café. We found one quickly, one that was nested in a walking way, just in front of a large plaza… A wonderful place, quiet, on 2 levels, and they had delicious mochas! We stayed there for a few hours, then it was soundcheck time already…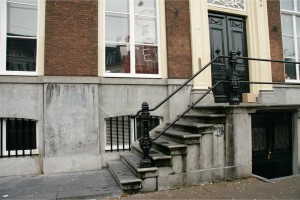 Outside the venue & A poster for the band's concert
The soundcheck went fast and very well… Though it had a bit of a feeling of nostalgia, as we knew this would be the last one of the tour…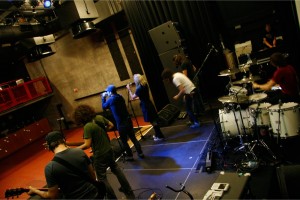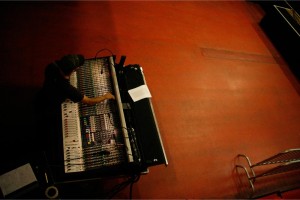 During the soundcheck… The control board – a small one! lol
And right after the soundcheck, after a short time in the backstage, we learned that some fans were waiting for us outside! Some of the band members and crew went with them, where they distributed flyers all afternoon in order to do a last stretch of promotion. Obviously, Jeff was with them. He LOVES doing that kind of thing… Well, he loved it until he got arrested by 2 police officers for illegal actions in the streets of the city. Jeff argued a little bit, saying that it wasn't illegal or anything, it's not drugs, not advertisement for a massage parlor or anything, it's only promotion for the show that a Canadian band he is part of is performing that night very close by! He was all enthusiastic, surely the police officers would realize they had made a mistake. But… they did not! What's illegal is giving away flyers… No matter what kind. Jeff got away with nothing… But let's say it cut the promotion short a bit! lol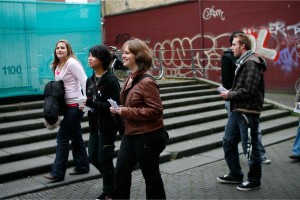 Leaving with the flyers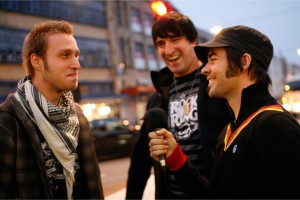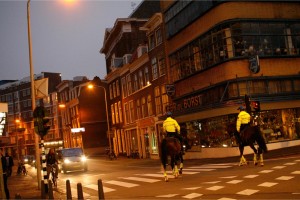 Missed promotion turned into interview… The 2 police officers that arrested Jeff?

We had to go back to the venue not long after, to make sure we had time to get ready before the show… Stretching and vocal exercises, reviewing the set list and such was waiting for the band members…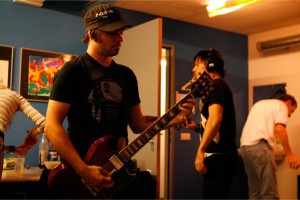 Getting ready for the show… & Moose teaching guitar to Jeff? lol
Once again, the show had been awesome… Not that many people were there, but the ones who were there had so much energy, like I had rarely seen it before… Like no energy was lost at all, it was instead echoing on the walls to come back to us just as strong as it left our bodies… for both the band and the crowd…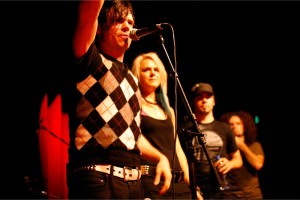 Saying goodbye before leaving the stage
We then went upstairs, as the venue had its own little café/bar, where followed a crazy dance party… Well, it didn't last long. Only a very few people took part in it. And it almost looked like they were fighting if you didn't pay attention to what was really going on… Or if you paid too much attention to it. Either way, it was a little bit of dancing, and a little bit of fighting, I guess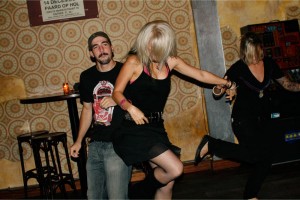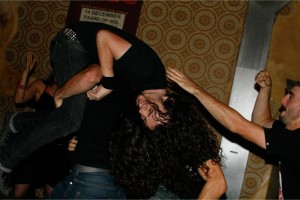 Could be mistaken for fighting… Could also be mistaken for dancing…
And then it was almost time for us to leave… Time for one last picture…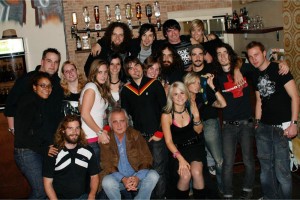 One last picture with the fans…
Tags: Europe, France, Netherlands, Pictures, Tour